MacLellan Bagpipe Chanters.
All the chanters are made on modern CNC equipment. This ensures accuracy and repeatability, this is extremely important for the band chanters. This process allows us to custom make or adjust the design of the chanter to a pipe band's desired reed choice!
The pictures below will take you through the process of :
Reaming the chanter, the collar on the reamer ensures an accurate bore diameter every time.

CNC rough to finish turning the chanter.

CNC mill machines the finger holes, always accurately placed and sized.
When properly set up, these chanters will work at a pitch of approximately 475hz, solo, 478hz.,* for the band type, with the full range of drone harmonics to give clearer projection for more volume & broad sound. All of our chanters now have threaded reed seats for ease of fine tuning adjustments.
( *These pitch numbers are approximate, recorded in our workshop at 70 Degrees and 50% relative humidity)
Comment:
Dear Roddy, The chanter has arrived and it's marvellous! The tone is rich and mellow - just like I used to enjoy back in the 70's. Definitely my preferred pitch. Great workmanship and I love the silverwork engraving on the sole.
Thanks so much. I am a very satisfied customer.
Wishing you Merry Christmas and Happy New Year.
All the best, Ralph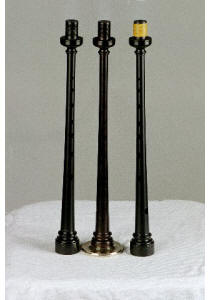 The band style, Blackwood chanter or Delrin chanter, has a steeper taper in the bore, & larger finger holes than the solo style. This gives a more robust sound, for more power & volume. The pitch of this chanter is ideal for North America, where the warmer summers make some of the higher pitch chanters unstable & thin on the top hand. The reed seats are threaded making fine tuning adjustments much easier than ever before. These chanters will produce and strong clear tone, with crisp gracenotes and an incredibly stable top hand. The rich harmonics produce a powerful sound with even volume throughout the scale.
The solo chanter is designed for a sweeter type sound & is available in African Blackwood or Cocobolo. This chanter has complex harmonics, even volume and clear projection.
| | |
| --- | --- |
| Delrin, Solo or Band, | $180-00 |
| Cocobolo or Blackwood, Solo or Band. | $300-00 |
Specially Pitched Chanters
We also have available pipe chanters in delrin, blackwood or cocobolo, pitched at Bb 466, or A 440, these are designed for playing with other instruments and tune accordingly. Concert A 440 will require some work on drone reeds to get the bagpipe in tune at that pitch. We recommend the Apps, G4 reed for these chanters.
| | |
| --- | --- |
| Delrin, A440, B466 | $250-00 |
| Cocobolo or Blackwood, A440, B466. | $350-00 |
Comment
Hi, Roddy!

I bought one of your A440 chanters from The Piper's Hut a couple of months
back, and I just wanted to tell you how absoulutely pleased I am with it!
I've played my pipes with a couple of local Celtic rock bands (Homeland and
Dulahan) and the pitch was absolutely perfect!

Anyway, your A440 chanter is an awesome product!

Cheers,
Kevin Palm
Grafton, OH
Wood sole. Button $60-00

Full size $100-00

Engraved Silver Chanter Sole. $800-00

Engraved Aluminum $190-00

Engraved Bronze $375-00

Cast Silver Chanter Sole.

$800-00

Plain silver $550-00

Plain Bronze $150-00

Silver Band, $250-00

Bronze Band $70-00

Aluminum Band,

$70-00

Plain Sole.

Aluminum, $100-00

Plain Bronze $250-00

Imitation Ivory or Horn,

$50-00
Roddy, thank you so much for getting me that chanter top and reed in time for my tour! Chanter sounds amazing! I (and my band) greatly appreciate it! I'll be in contact for a practice chanter when I have the budget for it.

Best Regards!
Click image to enlarge
ABW with plain delrin top $200-00,

Cocobolo with plain delrin top $200-00,

Add $30-00 for plain aluminum or bronze ferrule, $80-00 for engraved.

Engraved silver ferrule, $200-00

Long length practice chanters in Cocobolo or African Blackwood. Available with engraved ferrules.

Flat countersunk holes accurately replicate the feel and spacing of the full size pipe chanter.
Some Comments
Hi Roddy,
I just bought one of your solo chanters from Chris Hamilton, and I just want to let you know I love it. Its easily in tune without tape, and
I love the sound and feel of it in my hands. I've been experimenting around with so many chanters, but I've finally found what I'm
looking for. Thanks! Pat
from: francoise.van.leersum@philips.com To: Roddy MacLellan <roddy@highland-pipemaker.com>
Subject: Re: Pipe chanter in the key of A
MIME-Version: 1.0
Date: Mon, 9 Dec 2002 16:53:15 +0100 Dear Mr.. MacLellan,
I'd like to inform you that the A-chanter was a great success. The conductor of the orchestra I played with was very pleasantly surprised. He was glad I managed to tune exactly with the orchestra (442Hz) and he loved the sound and the intonation I got with the reed you sent me.
Thank you very much, owing to your chanter it was a great success.
Regards,
Françoise van Leersum
Hello - I would like to compliment you on your Bb chanter! Last night I performed as a featured guest with the Metropolis Symphony of Chicago. We played Shaun Davey's Relief of Derry Symphony and his Special Olympics Suite in their North American debut to a packed house. It was a resounding success, and much thanks goes to you.

I borrowed one of your Bb chanters from someone here in town, not having a Bb chanter of my own. It was PERFECT with the orchestra. So much so that several of the orchestra members were confounded as to how I managed to be in tune with them - and said so. Many other pipers they've worked with were never able to get in tune with the orchestra, obviously creating noise instead of music.

I would dearly love to play with more symphony orchestras and so need a chanter of my own. Being able to plunk in a Shepherd reed and have it nearly perfect was a dream. The pitch was right on, the sound big and bold, and the feel in my hands brilliant. Thank you!
How do I go about ordering one?
Telephone704-635-7210 , Postal address 1903 Skyway Dr. Monroe, NC 28110, USA
Send mail to maclellanbagpipes@charlotte.twcbc.com with questions or comments about this web site.
All Material language and graphics are subject to all applicable copyright © 2004 MacLellan Bagpipes